This billboard was in the baggage claim area at Auckland Airport and welcomed in tourists and Kiwis returning home.
Burger King made a wish, to establish themselves in New Zealand. And what better way to celebrate another successful year than to give something back to their customers.
These fires are so amazing. It's like they're from another universe, one where the rules of physics don't apply.
This TV ad for Vero Insurance demonstrates that if something terrible happens

you can quickly get things back to normal.
Jeep wanted a piece of fishing action. (A jeep is the perfect vehicle to tow a boat.) So they booked a number of ads in NZ Fishing News. We made the most of their tagline "Have fun out there" with these playful fishing focused ads.
To help bring the headline to life, all the typography in this ad by hand. It involved the tip of a sharp scalpel, some cotton balls dipped in ink and a Sharpie.
This is the cover of a simple mailer that reminded people how good LPG bottle swap is and it offered them an awesome discount too.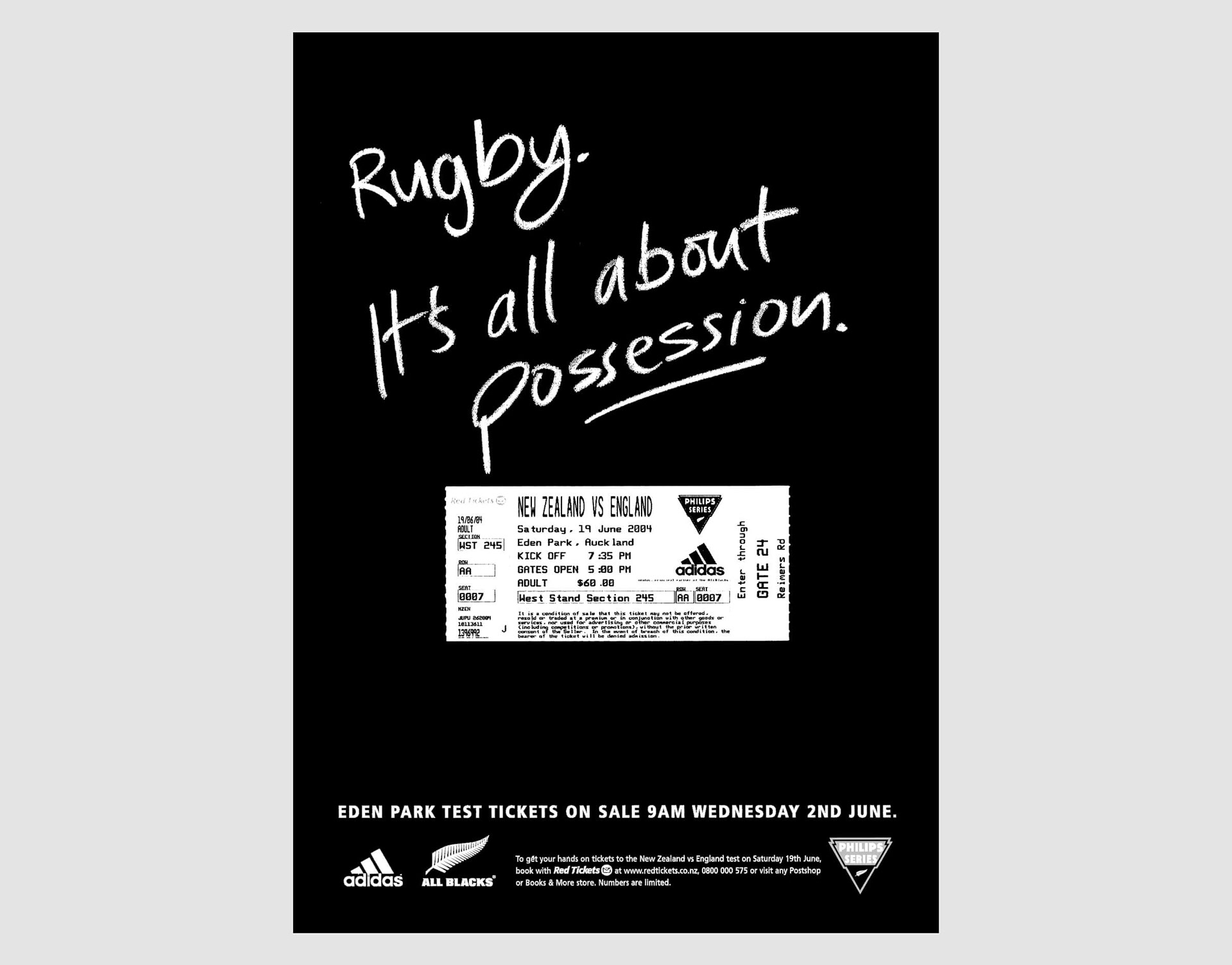 This ad made sure that every single one of the much coveted All Blacks tickets was snapped up by someone.
And for those who couldn't get tickets to the AB's game, Skycity made sure no one missed out by playing it live on their big screen.
This ad invites you to sleep with the fishes.
The Blues rugby team are all about playing the game at speed. So we dramatised this fact with a series of billboards.
This ad for luxury steel planters ran in

the "NZ Polo Open" Magazine and was designed to catch the attention of horse lovers.
These retail TV ads for GEM Visa that highlight the sort of purchases you can make with your card.
This ad is all about the circle of life, although in this case it's more of a line than a circle.
This Essano ad is all about mind, body and hair.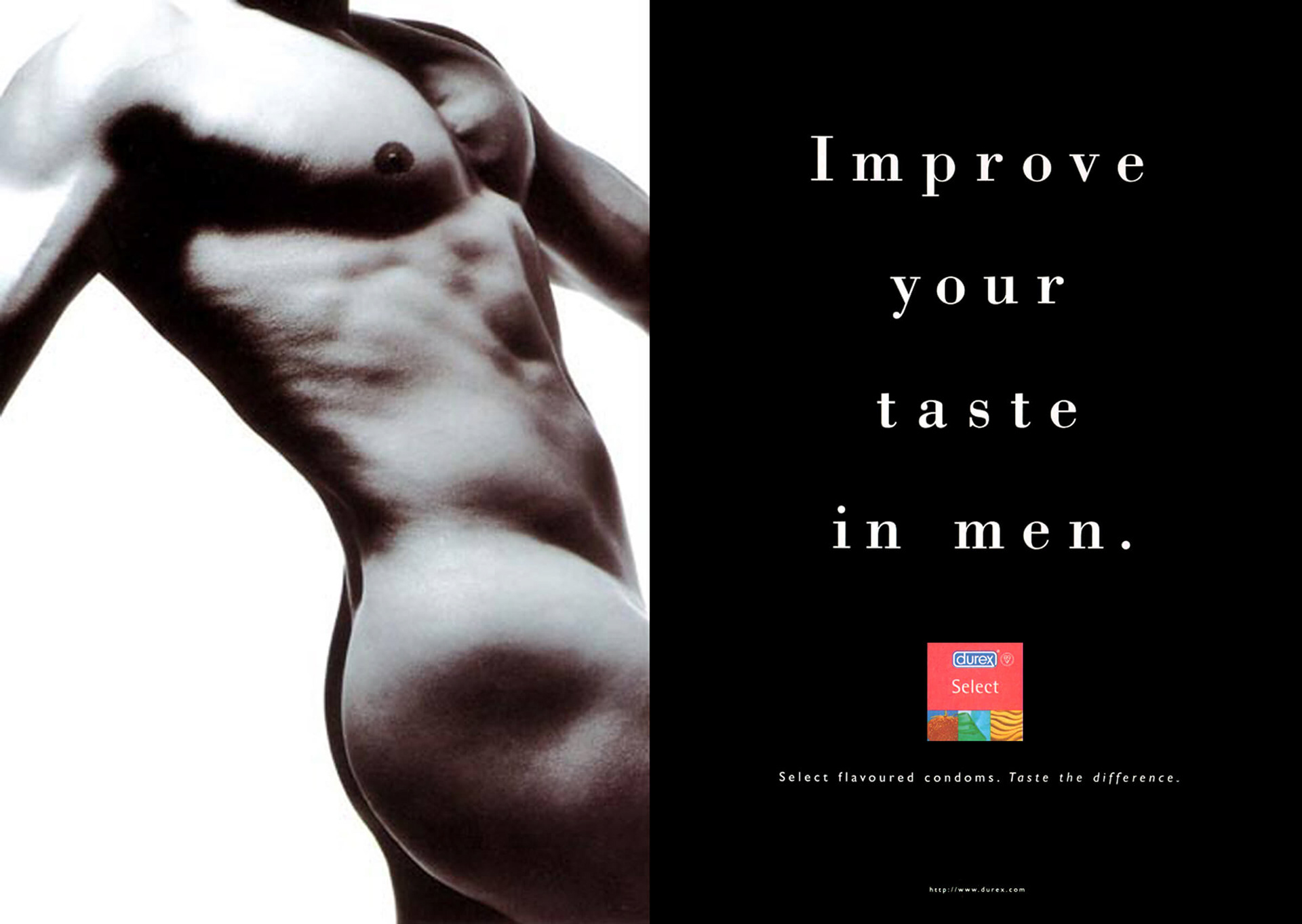 We ran this ad in New Zealand Women's Weekly. You're welcome guys.
Six very powerful and unforgettable words.
To celebrate Ruben Wiki's 300th game (the rugby league legend) we gave everyone who bought a paper the opportunity to wear a Wiki 300 tattoo to the game. The design uses some of Ruben's own tattoos and the eyes from the Warriors logo. You can actually do this ink transfer technique with any newsprint and this one proved very popular with Ruben and his fans.
This was mailed out to people who were getting older and getting closer to retirement. The cover (above) has very small type and the inside is normal size type.

Everyone who surfs knows the only thing worse than a big wipe out is having to get out of the water because you're hungry.
The special price of this Whopper came from the past so we designed the ad to match.
These billboards use 3D paper sculpture to highlight the new design and new flavours of Mac's beer and cider.
We took a light hearted approach to this series of long copy ads that focus on a very serious topic.
BNZ Business wanted to highlight the facilities they have for their clients to use free of charge. Our solution was to bring the walls of these spaces to life and tell some of the amazing stories that had happened in these Partner Centres.

Sometimes all it takes to make a nice ad is to just make it look beautiful.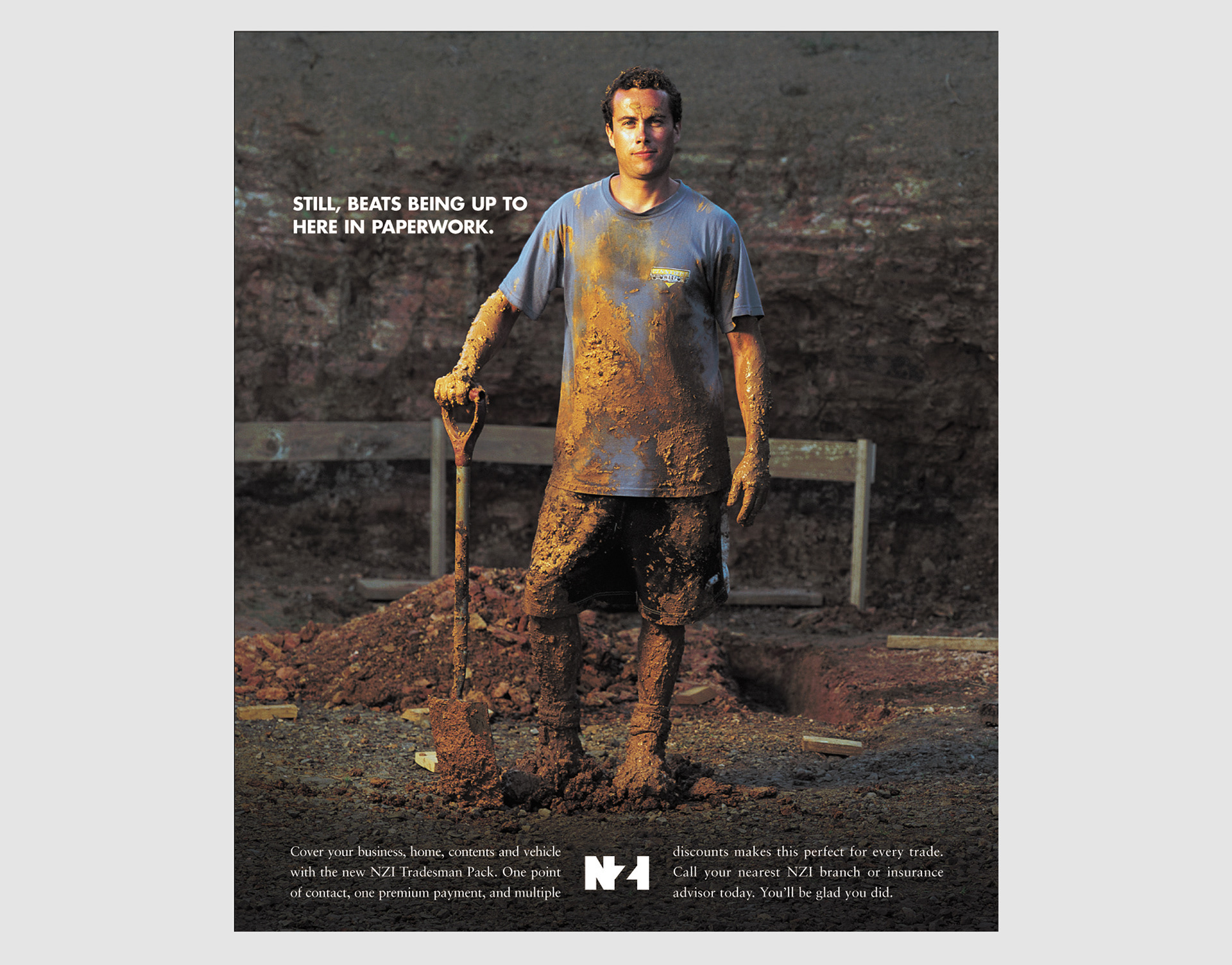 Other times if you want a nice ad you have to get stuck in.
BNZ's customer service was mostly good but it wasn't consistent, so they had a bit of a delicate problem. How do they have a conversation with their staff about customer service without offending those that are good at it?
To demonstrate that it only takes one bad experience to taint the good we created Choc-roulette and gave one to every BNZ staff member. Each box contained three chocolates. Two of the chocolates were delicious and one was an Anchovy Truffle. Each chocolate looked identical and the only way to know which was which was to put it in your mouth. It was a simple but memorable demonstration that inconsistency can leave a bad taste in your mouth.
This print ad for an online cocktail delivery company took inspiration from social media, a very important marketing medium for them.
We were more than happy to see the new Sand Tiger Sharks arrive at Kelly Tarlton's. But I'm not sure if everyone else felt the same way.
There's safety in numbers with the Kia Carnival.
These were some very brave people, happy to put themselves out there for the good of their business. It's nice to see people who don't take themselves to seriously, it makes them more approachable.
Yep, penguin soccer. Who knew the penguins at Kelly Tarlton's love to play soccer?
These ads are for an Anchor Fast Start liquid breakfast campaign that featured Kiwi sports stars. You can see the concept sketches for these ads in the Illustration section of this website.
Burger King really got into the spirit of our Wicked Winter campaign, doing whatever they could to unnerve their competitors.

Beautiful outdoor furniture in a beautiful location.

The future of fire is here now.
Funnily enough the way to get more air time is to spend less time in the air.
Hugh, what were you thinking?
Even though the fathers do the bulk of the incubating, new born King Penguins still love their mum.

We created a series of retail ads for Air New Zealand. They had a really big impact (excuse the pun).
The British and Irish Lions

only

tour here once every 12 years, so it was important we did everything we could to throw our support behind our team.
Viewer discretion advised: Contains per-historic monster sharks.
These copy only ads for Westpac focus on their unique home loans products.
The people who love skiing loved this offer.