We took a stock standard Toyota Coaster and turned it into Sharkbus.
Burger King went all "loco" and introduced the Mexican Whopper.

This is a close up detail of the Mexican Whopper lock-up. The key ingredients were used to make a Day of the Dead style face.
We made a TV ad to celebrate it's launch - fiesta time.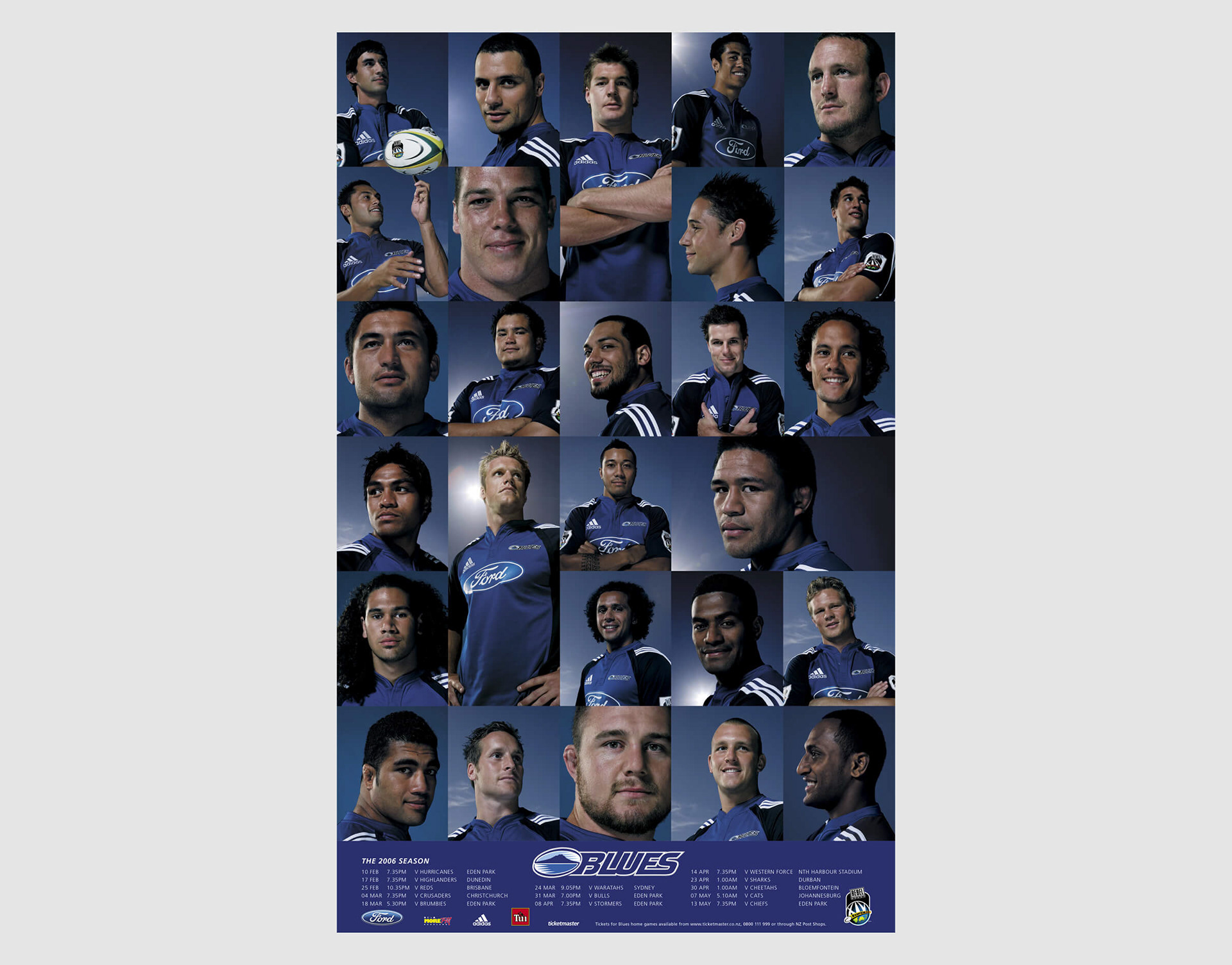 This Blues rugby team poster heroes each personality in the team.
This autograph card brings to life Auckland Rugby's famous blue and white hoops. Can you spot the All Blacks?
This logo was designed for a friend who races muscle cars. We wanted it to look like it was part of a car, with a badge, graphics and racing strips painted onto a body panel. The word Production is it's own unique typeface that was then made into 3D to give that cast metal look.
This brochure went to prospective buyers of the new M5. As you remove the brochure from its sleeve the M logo pulses. It references the pulsating power of a BMW M series vehicle.
Club rugby is a spectacle worshiped by thousands on any given Saturday.
Club rugby has been played here for a long time and these ads reflect it's heritage.
To win an amazing New World promotion, people sent in their favorite recipes and we made and photographed the best ones, as voted by the public. As you can see there was some really tasty looking entries.
What's more Hawaiian than a pineapple setting on the horizon?
Having fun with typography.
Above is the key graphic we designed for Kelly Tarlton's "Myths from the Abyss" school holiday promotion. Below is one of the pieces that we made and displayed.
This is part of a menu designed for Pita Pit.
More fun with typography. For this design the challenge was to limit it to using only four shapes - a square, a triangle, a small circle and a larger semi-circle. None of the shapes were scaled in size, this made it even more difficult to design the letters. The more eagle-eyed among you will spot it as our logo font.
This piece was sent to Carters Building Supplies customers. It let them know if they purchased enough product, they could be going to the Rugby 7's in Hong Kong. The wooden case added a real relevance to the promotion.
The design of this vehicle livery is elegant and simple to reflect the premium product it carries.

This is the cover page and an example of a spread from a product brochure.
This was designed for a fund raising drive to get the Coastguard a much needed new boat.
Children used this map to find some tasty treasure and along the way meet some interesting creatures.

There's an icy vibe to this lock-up we designed.
Above is a small selection from the logos we have designed.
This logo was developed for a company that delivers cocktails to your door. (great idea right?) The tui bird icon at the top is made from various parts of the letters in the word cocktail. Namely the tail of the k, the flourish of the l and the dot of the i.